With two weeks left to summer, I didn't have an internship or job in archaeology. What could I do for the summer besides flipping burgers?

I was headed home to Oregon where there are large expanses of federal land held by the Forest Service and Bureau of Land Management (BLM). The federal agencies often have more work than employees can finish and welcome volunteers. If I was going to volunteer it would be fun to look at similar sites in one area, not run around on unrelated errands. By chance, the BLM office had records locating unrecorded petroglyph sites. These are located on a dry, high plateau, where the occasional black basalt rims have had designs carved into them over time by the natives who used the area.

Although I had been to a field school, I was confronted with new decisions that dealt with independent research. The project would be a survey across large areas, not digging a 1 by 1 meter square. How was I to locate the petroglyphs and subsequently map them? What data needed to be recorded for each panel of petroglyph designs? (I really didn't know anything about this sort of work.) And most importantly what other supplies do you need to camp out for three day stretches?

After finding a willing accomplice, because the desert isn't a safe place to be alone (remember there are rattlesnakes), I assembled the necessary materials from pencils, paper, rulers and a GPS unit (Global possitioning system used for mapping) to 15 gallons of water, coffee, wide brimmed hats and leisure books.

The first days in the field I had no idea what I was doing because everything was new and recording petroglyphs went slowly. Having the company of my brother brightened my day. With time the measurements and picture taking fell into a routine. The cool morning would retreat until the black rock was too hot to touch before we would retreat under the dining fly the only available shade for the hottest hours of the day. From 1 to 6 PM, I would eat lunch, catch up on field notes, and read a Tony Hillerman mystery about Navaho Country. It was probably good I didn't read about a cool, wet place or I would have been more miserable in the over 100 degree weather. After an evening of recording, the clear sky would give way to an even clearer night where the stars made a lantern unnecessary.

Last summer I wish I had run across a rattlesnake, so I could have something to tell everybody. But I had more fun learning about petroglyphs and the names of plants that are edible. I also learned more about planning from the perspective of both research goals and the upkeep of personal health in an extreme environment. The sites were away from population, so I formulated exactly what to record beforehand. And sometimes I forget what I take for granted.... after two days exposure to the heat, our water had to be flavored because of the rancid taste. But, I had a wonderful summer.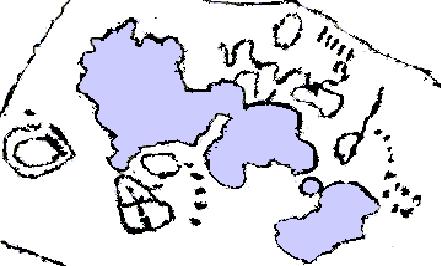 Petroglyphs appear as abstract designs such as this one which was pecked into a basalt boulder. Today they are often partially hidden under moss and lichen (represented in gray). This petroglyph is present on a boulder which is about 2 meters wide.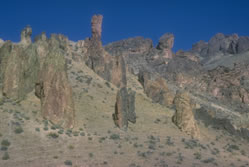 Oregon high plateau lands (Courtesy Oregon Bureau of Land Management.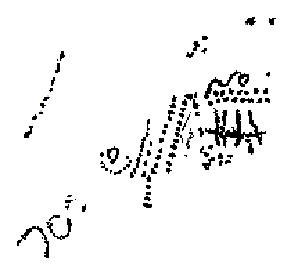 A second example of a petroglyph found on BLM lands last summer. This one covers an area of about 1 meter square.